Plan. Execute. Control. Complete.
What is MES?
MES stands for Manufacturing Execution Systems

Sometimes referred to as MOM or Manufacturing Operations Management
Shop Floor Production System
And many others

MES enables optimization of production activities from order launch to finished goods

MES guides, initiates, responds to and reports on plant activities as they occur

This rapid response to changing conditions coupled with a focus on reducing non-value added activities drives effective plant operations and processes

MES improves the return on operational assets as well as on-time delivery, inventory turns, gross margin, and cash flow performance

MES provides mission critical information about production activities across the enterprise and supply chain via bi-directional communications
What are MES Applications?
(and where does it fit in my plant)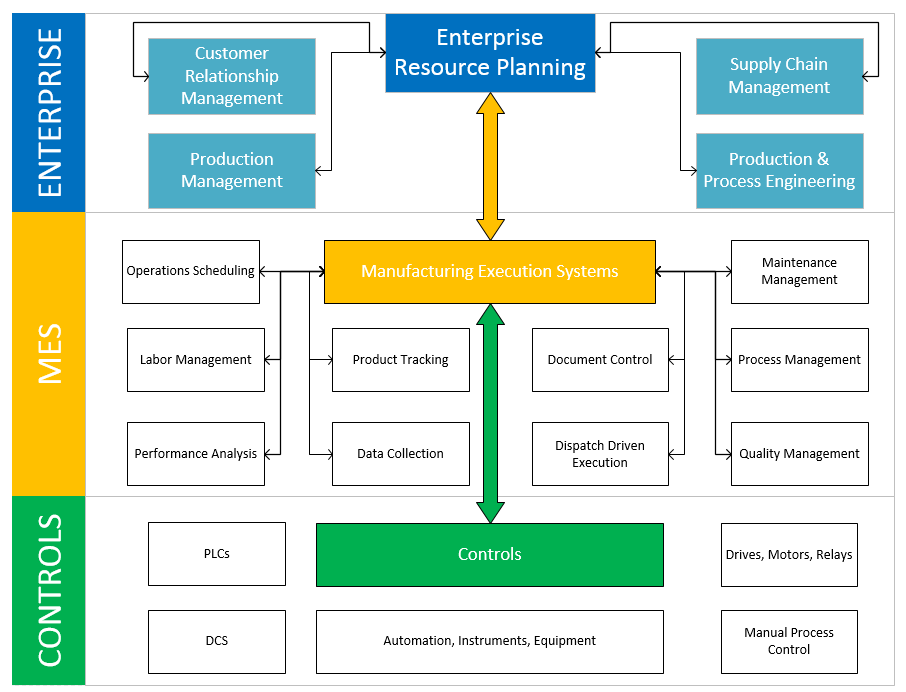 ERP "why" – MES "how to"
ERP primarily supports strategic decisions

MES supports operational decisions

Those who know "how to" make things, always works for those who know "why"
But those who know "why," must rely on people who know "how to" to turn their decisions into reality
ERP is not designed to Reach Shop or Plant Floor
No machine that produces a piece per cycle probably will ever communicate to the ERP that it completed the cycle

Shop Floor MES production systems and ERP systems operate on different interpretations of "real time."

ERP is focused on the strategic management of the business

MES is associated with the punctual execution of the process

ERP and MES systems must communicate and act as a seamless whole to allow the manufacturing industry to meet dynamic needs coming from:

Customers
Regulators
Suppliers
And even internal staff
Increases operational excellence

Improves asset utilization and management of assets

Reduces manufacturing cycle times

Reduces work in process

Reduces paperwork between shifts
Reduces lead times

Improves product quality

Eliminates lost paperwork

Empowers plant operations staff

MES functionality can be implemented between plants with minor "tweaks" for each specific plant site thus lowering costs across the board

ERP
Forecasting
Costing
High Level Production Planning
Product Definition
Process Definition
Human Resources
Inventory Management
Purchasing
Distribution

MES
Resource Allocation/Status
Operations Scheduling
Production Dispatching
Document Control
Data Collection
Labor Management
WIP Status and Traceability
Quality Management
Performance Analysis
Product Tracking
Maintenance
Process Instructions
Visual Work Instructions

Monitoring & Sensing
Process
Equipment
Environment
Labor
Raw Materials
Machine Control
Regulatory Control
Advanced Process Control
Process Sequencing
Human Machine Interface
Safety
Maintenance
Click Here to See the 7 Things Your ERP will NOT do