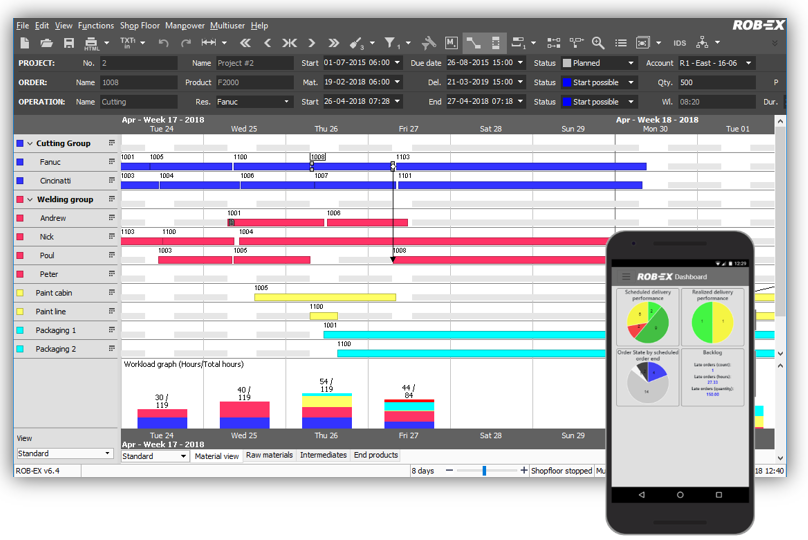 ROB-EX Scheduler
Digitalization is changing everything, and manufacturers must react quickly and intelligently to unexpected changes, while being able to respond to shorter lead times and satisfy customer demands. These challenges are faced not only by large enterprises, but also small and medium businesses. ROB-EX products have been specifically developed to meet this need, using advanced algorithms that balance demand and capacity to generate achievable production schedules.
ROB-EX products can be used for long-term strategic planning covering months and years, medium-term tactical planning with a few weeks planning horizon and for detailed sequencing and scheduling.
ROB-EX can be installed out of the box, and can be customized and configured where necessary. It can be used standalone to manage planning and scheduling, and is also designed for integration with other software such as ERP, MES, Data collection, Forecasting, Demand Planning and OEE applications.
ROB-EX Scheduler Features
See consequences of new orders and changes quickly and make better decisions.
Utilize one way of doing things instead of numerous personal spreadsheets.
Schedule in a closed loop with actual plant floor progress from the MES environment.
The industries served include make-to-order, make-to-stock, engineer-to-order, and batch environments.
Improve productivity as well as manage production operations efficiently.
Clients per Install (Average)
Standard connectors for all major ERP systems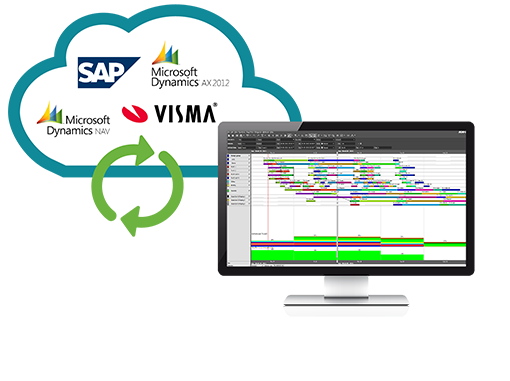 To get the full value of a scheduling tool you need to integrate the solution with your ERP or SCM system. To make this easy there are standard connectors for all the major ERP and SCM suppliers.
Why use a Scheduling tool?
Every manufacturing company schedules production

Make informed decisions regarding the schedule

ERP planning systems do not really schedule

Implementing an Advanced Planning System at the ERP level is expensive and are not reactive

Adhoc tools (ex: spreadsheets) only partially solves the problem and introduces new problems
Improve and maintain customer service

Shorten lead time

Fast, precise, and valid due dates

Improve production performance

Manage production operations efficiently

Avoid costly mistakes
Return on Investment (ROI)
Reduces direct labor costs with increased productivity and less overtime

Reduces outsourcing costs through increased capacity

Reduces penalty costs by delivering on time

Avoids new investment through increased capacity

Reduces WIP Inventory

Increases revenue through predictable delivery times

Increases revenue by selling up to increased capacity