Enhancing the orchestration of your manufacturing process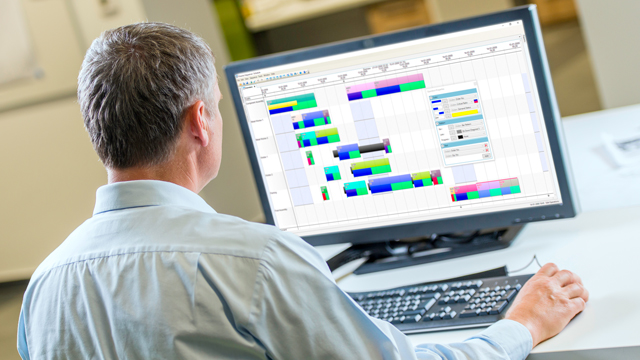 Preactor APS
Digitalization is changing everything, and manufacturers must react quickly and intelligently to unexpected changes, while being able to respond to shorter lead times and satisfy customer demands. These challenges are faced not only by large enterprises, but also small and medium businesses. Preactor APS products have been specifically developed to meet this need, using advanced algorithms that balance demand and capacity to generate achievable production schedules.
Preactor APS products can be used for long-term strategic planning covering months and years, medium-term tactical planning with a few weeks planning horizon and for detailed sequencing and scheduling.
Preactor APS can be installed out of the box, and can be customized and configured where necessary. It can be used standalone to manage planning and scheduling, and is also designed for integration with other software such as ERP, MES, Data collection, Forecasting, Demand Planning and OEE applications.
Start your digital transformation with planning & scheduling software
Complete visibility and control to support better scheduling decisions
Advanced Scheduling software is an interactive, multi-constraint scheduling system. Availability of resources and additional constraints, such as tooling and materials, are all taken into consideration during scheduling to ensure an accurate model of your environment. Orders can be scheduled quickly using intelligent built-in rules, and the planner also has the ability to manually interact with the schedule to make changes based on their experience or new information.
Advanced Scheduling provides decision-making support for overtime, order prioritization, split production batches, due date negotiation and order processing.
Make better, more strategic long and mid-term planning decisions
Advanced Planning software is a strategic decision tool designed to aid you in long and mid-term planning. It considers forecast and long-term orders, supports decision making about feasibility and affects the general direction of productions.
Advanced planning software supports major production capacity decisions surrounding extending the work force, resource capacity, and factories. It helps you determine what and how much to make, where and when to make it, and exactly what materials and resources are required.
Planning can be executed in finite or infinite capacity mode and planning time periods can be days, weeks, months, or a combination of all three. If used together with our advanced scheduling system, detailed production schedule information can be sent back to the planning system to override planned volume with scheduled volume. Master Production Schedule (MPS) can then be re-calculated using production schedule as the base for new results.
"In 2016, we saw the impact of Preactor AS on our systems, leading to an increase in sales of 10 percent and improvement in profitability through accurate visibility and effective resource utilization."
"With Preactor APS we have gained 16 hours per week for the planner resource dedicated to sequencing production."
"By using Preactor, we have improved our on-time deliveries by more than 95 percent. We have used better inventory returns and resource utilization to improve our productivity by 15 to 20 percent. Our communication with customers and between management and operations has also improved significantly."
Learn more about planning and scheduling by downloading our info-graphic
Let us help you get started